Citizens On Patrol (COPS)
Are you interested in being an extra set of "eyes and ears" for your community? GREAT! We need you...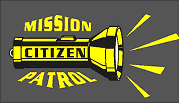 Mission Citizens on Patrol Program encourages dedicated community volunteers to be of assistance by observing possible criminal activity in designated areas. By being an extra set of 'eyes and ears' the Patrol is able to assist in the deterrence of crime in this community. The Patrol is not designed to replace the local police but allows police to direct their focus on other areas of potential crime and criminal activity.

This Program operates 7 days a week from 9:00AM to midnight.

To become a Citizen on Patrol Volunteer you must:
Be 19 years of age or older;
Be a resident of Mission or neighbouring municipality;
Complete an application form;
Complete a Criminal Record and Enhanced Security Clearance Check;
Be Committed to Program for One Year;
Be a Team Player; and
Successfully complete the training for Citizens on Patrol
Please complete the Volunteer Application Form and drop it off at our Mission Crime Prevention Office (CPO) located at 33131 1st Avenue or fax it to (604)820-1376.
In addiction to general patrols, Citizens on Patrol delivers the following programs: