Police need help to identify arsonist
Kelowna
2017-09-26 11:41 PDT
File # 2017-58164
RCMP are seeking the public's assistance to help identify a suspect who's image was captured on CCTV, moments after he allegedly lit a fire late Monday morning in Kelowna.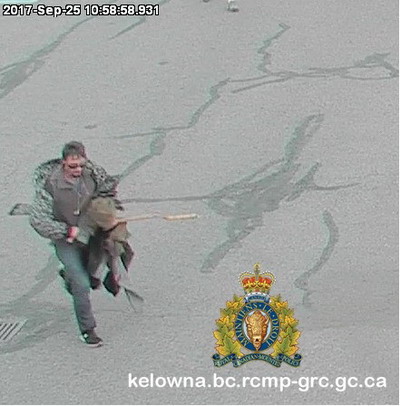 On September 25, 2017 at 11 am, the Kelowna RCMP received several calls from the public, each to report witnessing a male allegedly igniting a fire at the corner of Springfield Road and Burtch Road in Kelowna. The suspect reportedly fled east along Springfield Road, until he cut through a business parking lot on the south side of the roadway and into an adjacent orchard.
The arson suspect was described to police as a Caucasian male, approximately 5 feet 7 inches tall and 180 lbs, with brown hair and a brown goatee. He was seen wearing a grey hoodie, dark coloured pants, dark running shoes and sunglasses while carrying a stick.
GIS investigators believe the nuisance fire may be related to a handful of other fires of a similar nature reported during the past couple weeks in Kelowna:
On September 14th, shortly after 4 am, emergency crews responded to a report of a stack of wooden pallets on fire behind a business in the 1500 block of Gordon Drive. Damage to an adjacent duplex was sustained as a result of the blaze. A unidentified suspicious male was observed in the area prior to the fire.
On September 19th, shortly before 3 am, RCMP were dispatched to assist the fire department who had responded to a pair of dumpster fires in the rear parking lot of a business located in the 1800 block of Baron Road.
On September 21st, just before the noon hour, RCMP received a report of an apparent overnight arson discovered outside a business located in the 100 block of Banks Road. The complainants suspected that the fire may have been lit by a transient individual and had since cleaned the scene.
On September 25th, RCMP were made aware of suspect arson incident which occurred on September 21st, where a small amount of debris was allegedly lit on fire, on the sidewalk in front of a business located in the 2300 block of Highway 97 North. The small fire was easily extinguished by a passerby.
Anyone with any information on any of the above arsons is asked to contact the Cst. Kevin Hamilton of the Kelowna RCMP General Investigations Section (GIS) at 250-470-6302. Or remain anonymous by calling Crime Stoppers at 1-800-222-8477, leaving a tip online at www.crimestoppers.net or by texting your tip to CRIMES (274637) ktown.

Released by

Cpl. Jesse O'Donaghey

Media Relations Officer
Kelowna RCMP
kelowna.bc.rcmp.ca
1190 Richter Street, Kelowna, B.C. V1Y 2K7
Office: (250) 762-3300
Fax: (250) 470-6348


Email: jesse.odonaghey@rcmp-grc.gc.ca

Follow Us: